Inside the Industry: ANIME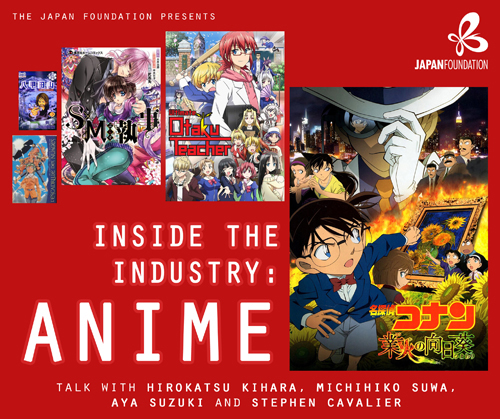 Anime is one of Japan's most popular and prolific cultural exports. Across a wide range of productions and vast number of styles and genres, it has developed to become an iconic aspect of Japanese culture, continuing to attract legions of fans and inspire animators worldwide. But where exactly do our favourite TV series and films begin before becoming domestic and international hits and what makes them successful?
This event will bring together seminal figures in the anime industry to discuss the practical aspects of their respective positions in the business, and outline the challenges which animators, writers and producers face today. The speakers will take you on a journey through the tough but fascinating world of anime production, right from the very earliest sketches to the finished product in all its animated glory.
Following on from a successful event held in 2012, this talk will provide you further with (almost!) everything you always wanted to know about the anime industry.
Hirokatsu Kihara began working at Top Craft, which produced Nausicaä of the Valley of the Wind, before joining Studio Ghibli in 1985, working with Hayao Miyazaki on Castle in the Sky, My Neighbour Totoro and Kiki's Delivery Service. After leaving Studio Ghibli in 1990, Kihara made his writing debut with the ghost story Shin Mimi Bukuro, which went on to sell over 1,200,000 copies and has since gone on to complete 10 volumes.
Michihiko Suwa is Chief Producer at the Animation Department of Yomiuri TV and self-proclaimed manga-fanatic, and has been working as an animation producer since in 1986. His first work as a producer was the anime television series Robotan, before working on a number of hit television series and film adaptations including Detective Conan (Case Closed), City Hunter, InuYasha, Black Jack, Yawara! and Magic Knight Rayearth.
Aya Suzuki is a 2D Character/FX animator, layout artist and animation lecturer. Projects Suzuki has worked on in Japan and overseas include Hayao Miyazaki's The Wind Rises (2013) at Studio Ghibli, The Illusionist (2010) (Dir. Sylvain Chomet, Django Films), Wolf Children (2012) (Dir. Mamoru Hosoda, Studio Chizu) and The Dreaming Machine (Dir. Satoshi Kon, Madhouse).
Stephen Cavalier (chair) has two decades experience in the animation and games industries, during which time he has worked as series director / animation director on TV series' for Disney, BBC and Channel4 and has written and directed award winning short films, music videos and TV commercials in both animation and live action. His book The World History of Animation and his animated storybook game Alph and Betty's Topsy Turvy World were published recently and he is currently directing a CG preschool series for Disney in London.
Date: 13 July 2015 from 6.30pm
Venue: London Metropolitan University, Moorgate Campus, Electra House, 84 Moorgate, London EC2M 6SQ