INSIGHT INTO BEAUTY II – CONTEMPORARY CRAFT INSPIRED BY JAPAN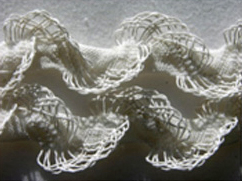 Date: 17 October – early December 2011
Venue: The Embassy of Japan in the UK, 101 – 104 Piccadilly, London W1J 7JT
Email: info@ld.mofa.go.jp
Web: http://www.uk.emb-japan.go.jp
Organiser: The Embassy of Japan in the UK
This is the second exhibition of its kind presenting various aspects of contemporary craft inspired by Japanese materials, techniques and design at the Embassy of Japan. Insight into Beauty are the words of YANAGI Soetsu (1889-1961), who led the Japanese mingei (folk crafts) movement fostering an interest in the aesthetic value of craftsmanship in Japan.
Namiko MURAKOSHI is originally from Okinawa. With references to her homeland and contemporary culture, her pieces bring a sense of fun so characteristic of this part of the world. Ashley HOWARD's work is informed by a dialogue between Japanese and homespun pottery traditions with ideas of ritual and ceremony underpinning it. Adam BUICK throws shapes based on moon jars, much admired in Korea and Japan and held in high regard by Bernard Leach and his contemporaries. Following Japanese tradition, Gas KIMISHIMA builds simple wood-fired kilns to fire all his work. He makes ceramic utensils inspired by nature for the tea ceremony, not signing his work believing a pot belongs to its owner and not the maker.
Beverly AYLING-SMITH is a textile artist work whose works explore the state of melancholia. Using materials associated with burial, her work encourages a focus on the emotional dimensions in the words grief, loss and absence.
Artist Basketmaker, Mary BUTCHER uses natural materials, plastics, wire, strings, cardboard strips and paper to make containers and sculptures in a wide variety of scales and forms. She was the curator of successful touring exhibition, 'East Weaves West: Basketry from Japan and Britain'.
The worlds of basketry and textile arts blur in the braiding of Jacqui CAREY's wire and bead kumihimo. Japanese authority on kumihimo, Makiko TADA is largely responsible for the growing international interest in Japanese braiding. She not only explores Japanese techniques but researches work further afield enriching the world of kumihimo. Sandy JESSETT deconstructs ancient Japanese models and Edna GIBSON explores the textures of kumihimo structures both developing new works. Jenny PARRY's innovative braid series in unorthodox yarns that curve and distort reveal new patterns, rhythms, and shadows through repetition.
This exhibition is a part of Asian Art in London.