Into the Incandescent: Artworks of traditional and innovative Japanese maki-e lacquer design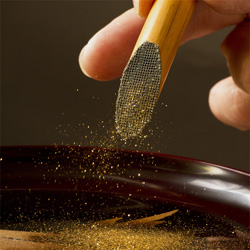 An exhibition of artworks created using traditional and innovative Japanese maki-e techniques. Shokan Matsuda is a Japanese maki-e lacquer artisan, a descendant of traditional maki-e craftsmen in Fukui, famous for Japanese traditional crafts. He founded Maki-e Studio SHOKAN in 2005, in Aoyama, central Tokyo. Its purpose is to convey the beauty of maki-e to the world and to pass down the traditional techniques of decorating wooden objects in this way.
The artworks of Shokan Matsuda and his followers result from their experimental approach to new maki-e techniques, such as applying maki-e to non-traditional surfaces including metal and glass and expanding the application of maki-e to include everyday objects.
During the exhibition period, a series of workshops will be hosted by award-winning Shokan Matsuda and eight of his apprentices, artisans of Maki-e Studio SHOKAN. The purpose of the exhibition and related workshops is to promote awareness of maki-e in the UK. Up to 15 participants in each workshop will create their own lacquer art, which they can take home. A one-off workshop held in London in September 2012 proved so popular that it was decided to hold more workshops this year with capacity for many more participants.
Date: 4 – 20 July 2013
Venue: Chelsea College of Art and Design, 16 John Islip Street, London SW1P 4JU
E-mail: Into.the.incandescent.1@gmail.com
Web: http://shokan2013.exblog.jp
Facebook: https://www.facebook.com/Studio.Shokan
Organiser: Makie Studio SHOKAN & Chelsea College of Art and Design