Into the River: Artist talk by O JUN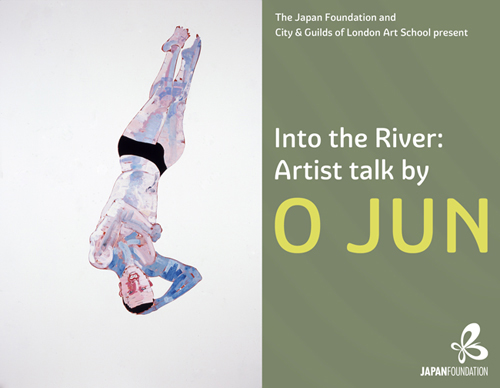 O JUN is considered to be both a leading and subversive voice in contemporary Japanese art and has had several major solo shows, including: MANMANCHAN AN, Aomori Contemporary Art Centre (2016); DaDa-co, Roppongi Hills A/D Gallery, Tokyo, and Sannojyo's Dream at Mizuma Art Gallery, Tokyo. His work features a wide repertoire of characters, everyday objects, clothing and nostalgic motifs of Japan, such as crests, flags, pine trees and distant mountains. Detail and narrative, while clearly evident through his bold graphic and visual fluency, are somewhat undermined, destabilised, enriched, and bothered. Wistful, poignant, poised but also confusing us with a contemporary brashness, O JUN's work appears to view Japanese culture (and humanity in general) deeply and gently from the inside, and with amused sympathy from the outside.
As a prelude to his first exhibition in in the UK, 14 days 119 years later at Danielle Arnaud Gallery in London, O JUN will share his thoughts on the evolution of his work and how this has been influenced by his time living and working in Japan and abroad. He will also discuss his recent project made 'in dialogue' with the Meiji era (1868-1912) woodblock artist Toyohara Chikanobu for the upcoming exhibition. After his presentation, O JUN will be joined by Tamiko O'Brien, curator of 14 days 119 years later, and Reece Jones, artist, curator and lecturer on the BA and MA Fine Art courses at City & Guilds of London Art School for further discussion.
Date: 7 June 2016 from 6.30pm
Venue: ICA (Institute of Contemporary Arts) Studio, The Mall, London SW1Y 5AH