Is Japanese Food Healthy? Taste, Sense and Sensation – A Talk by Prof Ole G Mouritsen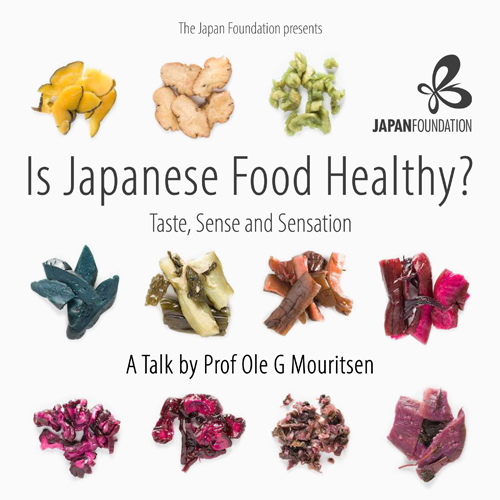 Japanese food has been looked upon by the world with great interest, not only for its variety but also its health benefits, promoting a balance diet. Because of its popularity, many Japanese ingredients are now available to buy in shops and supermarkets across the UK and are sometimes transformed into fascinating cuisines. Traditionally, Japanese food appeals to all the senses – the eyes, nose and tongue – all of which form an important aspect of appreciating the cuisine. But what makes Japanese food healthy?
In this special event, Prof Ole G Mouritsen, University of Copenhagen and author of Umami: Unlocking the Secrets of the Fifth Taste and Sushi: Food for The Eye, the Body, and the Soul will examine the benefits of Japanese food referring to how human's senses are interconnected with the appreciation of food. He will also highlight two main characteristics of Japanese food, mouthfeel and umami, the latter forming an important aspect of many Japanese foods including tsukemono (Japanese pickles) and other fermented products.
Facing an age where an unprecedented amount of different foods are readily available, and are having a huge impact on people's diets, this talk will offer the opportunity to re-examine what to eat and how to eat in order to improve one's quality of life.
Following Prof Mouritsen's presentation he will be joined for a discussion by award-winning food and travel writer Sybil Kapoor (chair) and Yoshinori Ishii, Executive Chef, Umu Restaurant, London.
Date: 17 October 2017 from 6.30pm
Venue: The Royal Society (Dining Room), 6-9 Carlton House Terrace, London SW1Y 5AG