Discover Korean Food 124: Dr. Sook-Ja Yoon's "Naeng-i To Jang Guk"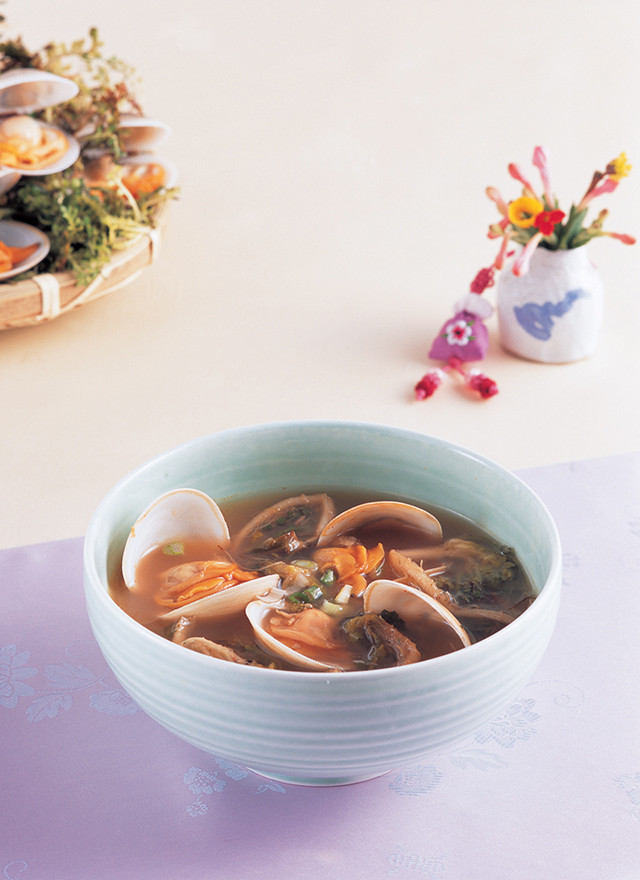 [Ingredients & Quantity]
160g Shepherd's Purse, 300g (1½ cups) Water, 2g (½ tsp) Salt
200g (6) Short-necked clam, 600g (3 cups) Water, 8g (2 tsp) Salt
1kg (5 cups) Rice Water (used water from washing rice)
34g (2 tbsp) Soybean Paste, 9.5g (½ tbsp) Red Pepper Paste, 5.5g (1 tsp) Minced Garlic
10g Spring Onion, 4g (1tsp) Salt
[Preparation]
1. Wash the Shepherd's Purse.
2. Soak the Short-necked Clam into the Saltwater for 3 hours.
3. Clean the Spring Onion and cut it into 0.3cm width.
[Recipe]
1. Boil the water for 3 minutes. Add salt. Blanch the Shepherd's Purse for 2 minutes. Drain it.
2. Boil the Rice Water with the Soybean Paste, Red Pepper Paste and Short-necked clam for 5 minutes. Add the Shepherd's Purse and Minced Garlic. Boil them for 3 minutes.
3. Reduce the temperature setting to medium when the Short-necked Clam open up. Leave it for 3 minutes.
4. Season them with the salt. Add the Spring Onion. Boil them 2 more minutes.
[Tips]
*If you over boil the the Short-necked Clam the meat becomes tough.
*You should blanch the Shepherd's Purse to avoid the water become dark.