JAFF: Japan Food Festival – Kyushu Island Area Edition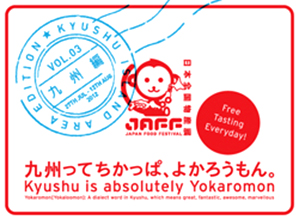 Japan loves local and so do we! In collaboration with the Fukuoka Chamber of Commerce & Industry, Japan Centre is showcasing the best of Japanese regional cuisine and culture with JAFF, a unique Japanese Food Festival this July. Japan is jam packed with all kinds of regional food producers and this month JAFF's super foodie fest will feature specially selected local food from the Kyushu Island area.
Kyushu is Japan's third largest island and home to breathtaking scenery – from ancient forests and sandy beaches, to sweeping mountains and active volcanoes. These volcanoes are also the reason Kyushu is known as the hot spring capital of Japan! Additionally thanks to its balmy weather and fertile soil Kyushu produces an abudance of fresh produce. These lucious fruits and vegetables, combined with its long history as a centre for international trade, have made Kyushu a culinary melting pot.
Date: 27 July – 12 August 2012
Venue: Japan Centre, 14 – 16 Regent Street, London SW1Y 4RP
Tel: 020 3405 1246
E-mail: foodinfo@japancentre.com
Web: http://www.japancentre.com
Organiser: Japan Centre