Japan Day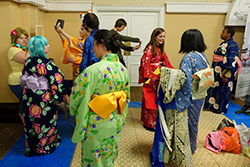 Japan Day is Japan Society North West's FREE all-day festival celebrating the many fascinating aspects of Japanese culture. This year it is the turn of the large and impressive Liverpool Guild of Students to host this increasingly popular festival, which attracted nearly 2,000 people last time it was held in Liverpool at Hope University's Creative Campus.
This year there will be displays and demonstrations of Japanese crafts and activities including Ikebana, Ningyo (Japanese dolls), Embroidery, Koto and Shamisen playing, Taiko drumming, the lovely "Awa Odori" dance and Shodo (the art of Japanese calligraphy). We are also very pleased to be hosting, for the first time at Japan Day, the excellent folk troupe SOAS Min'yo, who are travelling up from London especially to appear at our event. And also, as a special Liverpool treat, we are hoping to host a hilarious set from Liverpool-born "Rakugo" comedian Diane Kichijitsu, who now lives and plies her comedy trade in Japan.
For those of you looking for something more active we will be having martial arts displays from a number of different groups and you will also have the chance to dress up in kimono with our kimono-dressers. Plus we must not forget our Cosplay competition, which is always great fun so cosplayers please come along, dress-up and join in!!
Date: 20 August 2016
Venue: Liverpool Guild of Students, 100 Mount Pleasant, Liverpool, L3 5TR
Web: http://www.japanday.org.uk
Organiser: Japan Society North West