Japan Foundation at Experience Japan Exhibition 2013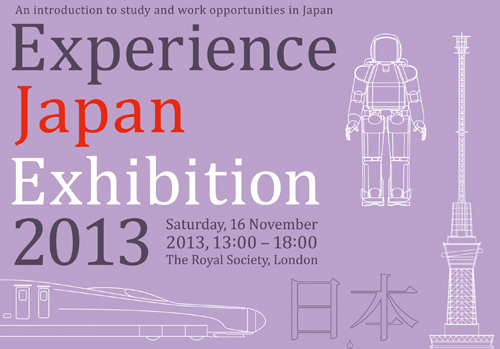 For the first time, the Japan Foundation will be holding a stand at the Experience Japan Exhibition 2013, an annual event where participants can find out more about study and work opportunities in Japan.
Seminar: Insights into Japanese culture through language (15:10 – 16:00)
The Japanese language has long fascinated scholars from all over the world. One of its most interesting features is the window it offers on Japanese culture. In this seminar Dr Seiji Fukushima of the Japan Foundation will use manga images to demonstrate how the use of language changes between different groups in Japanese society, from thugs to samurai! Freelance editor Hayase Yamagishi will then follow that up with a look at newly created Japanese words that reflect current music, TV and other popular culture.
Seminar: Studying in Japan (16:10 – 17:00)
What makes Japanese universities unique? How do they differ from UK universities? What is it like to be a student in Japan? Find out the answers to all these questions and more in our talk show with alumni of Japanese Higher Education institutions. The Japan Foundation London Office's Programme Officer Josephine Audigier will be one of the panellists.
Japan Foundation Information Stand (All day)
Come to the Japan Foundation's stand for information about Japanese language learning and Japanese Studies, and to ask any questions you may have about pursuing your interests in Japan.
For more information and to register online, please go to http://www.experience-japan.jp
Date: 16 November 2013 from 1.00pm
Venue: The Royal Society, Wellcome Trust Lecture Hall 6-9 Carlton House Terrace, London SW1Y 5AG