Japan Foundation at Speak Up for Languages Conference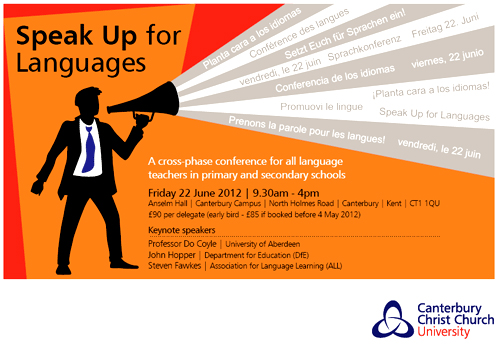 The Japan Foundation will be running a stand at Canterbury Christ Church University's "Speak Up for Languages" Conference on June 22nd.
Come and visit Japan Foundation's stand to learn more about Japanese language education in the UK, services and resources available to teachers and schools interested in Japanese, and to take part in our Japan Quiz!
About Speak Up for Languages:
Recent research shows that language learning at schoolcan bring significant benefits to learners, including:improved communication, confidence, literacy levelsand ability to make cultural connections.Canterbury Christ Church University is proud to supportlanguage learning in Kent and Medway and is hostingthe 10th annual cross-phase languages conference.
Primary and secondary teachers are invited to:
Hear and discuss latest developments and policy from experts in the field
Browse exhibition/publisher stands for language resources (free EU resources available)
Take part in engaging and stimulating workshops
Network with fellow languages colleagues.
For more information and to book your place, please visit the Canterbury Christ Church website here.
Date: 22 June 2012 from 9.30am
Venue: Anselm Hall, Canterbury Campus, North Holmes Road, Canterbury, Kent CT1 1QU