Japan Society Book Club – Confessions of a Mask by Yukio Mishima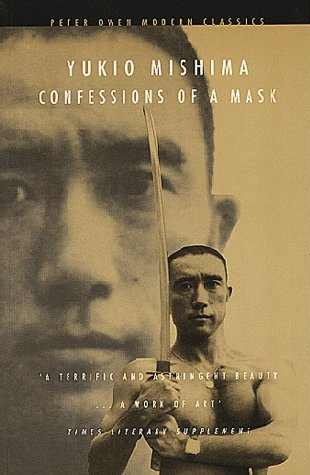 Considered one of the landmarks of Japanese literature, Confessions of a Mask combines traditional aesthetics with sado-masochist, coprophilic and homo-erogenous fantasies. From the ashes of post-war defeat comes the true face of a tortured psyche trapped in a stiflingly conformist society. Mishima's first breakthrough novel and a defining self-portrait.
For an English edition please click here (second-hand copies are available)
Yukio Mishima (三島 由紀夫 Mishima Yukio) was a Japanese author, poet, playwright, actor, and film director. Mishima is considered one of the most important Japanese authors of the 20th century; he was nominated three times for the Nobel Prize in Literature and was poised to win the prize in 1968, although he eventually lost the award to his fellow countryman Yasunari Kawabata, possibly as a consequence of his radical right-wing activities. His avant-garde work displayed a blending of modern and traditional aesthetics that broke cultural boundaries, with a focus on sexuality, death, and political change. He is also remembered for his 1970 ritual suicide by seppuku after a failed coup d'état attempt.
The book club is held every month. There is no restriction on the nationality of the authors read, but books should be available in translation in both Japanese and English. The discussion is conducted mainly in English, but you can choose the language in which you read the book. The intention is simple: to explore the themes of the book, express personal opinions on the style and content, discuss how the book has changed (or not) in translation and to have a relaxed discussion with others who have similar interests.
Date: Monday 7 April 2014, 7.00pm
Venue: The Old Star (basement alcove), 66 Broadway, London SW1H 0DB