Japan Society Book Club – Crackling Mountain and Other Stories by Osamu Dazai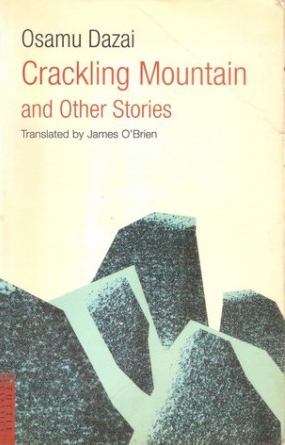 Dazai is famous for the darkness and nihilism that characterize his best-selling post-war novels, such as No Longer Human or The Setting Sun. This collection of short stories show a different side of Dazai – sparkling with a sharp and sprightly sense of irony, satire, and humour. Some are semi-autobiographical pieces, in the vein of the old 'I-novel', others are comic stories with a bite but most are re-tellings of classical or pre-modern tales, drawn from both Eastern and Western traditions.
Osamu Dazai (1909 – 1948) was a novelist and a master storyteller, who became at the end of World War II the literary voice and hero of his generation. His own life ended in tragedy; a double-suicide with his married mistress. In many books Dazai used biographical material from his own family background, making his self-destructive life the subject. One of the author's surviving children has gone on to forge a highly successful literary career herself – his daughter by his second marriage, Yūko Tsushima.
The book club is held on the second Monday of the month. There is no restriction on the nationality of the authors read, but books should be available in translation in both Japanese and English. The discussion is conducted mainly in English, but you can choose the language in which you read the book. The intention is simple: to explore the themes of the book, express personal opinions on the style and content, discuss how the book has changed (or not) in translation and to have a relaxed discussion with others who have similar interests.
Date: Monday 13 May 2013, 7.00pm
Venue: TBC