Japan Society Book Club – Evening Clouds by Junzō Shōno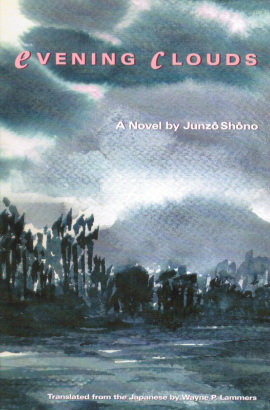 Junzō Shōno's portrait of a Japanese family's daily life has the resonant power of fine photography, where the most minute details suggest a changing, unforgiving universe. Shono is the absolute master of this 'snapshot' genre, and this is his most celebrated work.
Junzō Shōno (庄野 潤三, 9 February 1921 – 21 September 2009) was a Japanese novelist. A native of Osaka, he began writing novels after World War II. He won the 1954 Akutagawa Prize for his book Purusaido Shokei (Poolside Scene). Shōno's other award winning books include Seibutsu (Still Life), for which he won the Shinchosha literary prize, Yube no Kumo (Evening Clouds), which was awarded the 1965 Yomiuri Prize, and Eawase (Picture Cards) which took the Noma literary prize. Shōno lived for one year in the United States in the late 1950s on a fellowship from the Rockefeller Foundation at Kenyon College in Ohio. He later published a book, Gambia Taizaiki about his experiences at Kenyon. Shōno was made a member of the Japan Art Academy in 1978. He died of natural causes at his home in Kawasaki on September 21, 2009. Shōno was 88.
The book club is held on the second Monday of the month. There is no restriction on the nationality of the authors read, but books should be available in translation in both Japanese and English. The discussion is conducted mainly in English, but you can choose the language in which you read the book. The intention is simple: to explore the themes of the book, express personal opinions on the style and content, discuss how the book has changed (or not) in translation and to have a relaxed discussion with others who have similar interests.
Date: Monday 12 August 2013, 7.00pm
Venue: The Old Star (basement alcove), 66 Broadway, London SW1H 0DB