Japan Society Book Club: Grotesque by Natsuo Kirino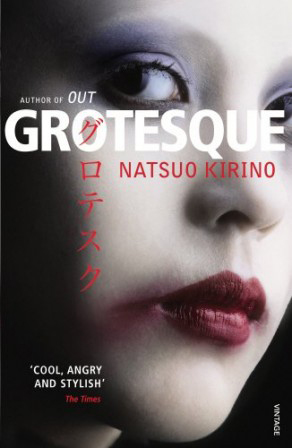 Two prostitutes are murdered in Tokyo. Twenty years previously both women were educated at the same elite school for young ladies, and had seemingly promising futures ahead of them. But in a world of dark desire and vicious ambition, for both women, prostitution meant power. Grotesque is a masterful and haunting thriller, a chilling exploration of women's secret lives in modern day Japan.
The book club is held every month. There is no restriction on the nationality of the authors read, but books should be available in translation in both Japanese and English. The discussion is conducted mainly in English, but you can choose the language in which you read the book. The intention is simple: to explore the themes of the book, express personal opinions on the style and content, discuss how the book has changed (or not) in translation and to have a relaxed discussion with others who have similar interests.
Natsuo Kirino, born in 1951 in Ishikawa prefecture, was an active and spirited child brought up between her two brothers. Kirino's father, being an architect, took the family to many cities, and Kirino spent her youth in Sendai, Sapporo, and finally settled in Tokyo when she was fourteen, which is where she has been residing since. After completing her law degree, Kirino worked in various fields before becoming a fictional writer. She began writing professionally, after giving birth to her daughter, at age thirty. However, it was not until Kirino was forty-one that she made her major debut. Her smash hit novel OUT (Kodansha, 1997) became her first work to be translated into English and other languages.
Date: Monday 8 February 2016, 7.00pm
Venue: The Japan Society, 13 / 14 Cornwall Terrace, London NW1 4QP