Japan Society Book Club: I Am A Cat by Soseki Natsume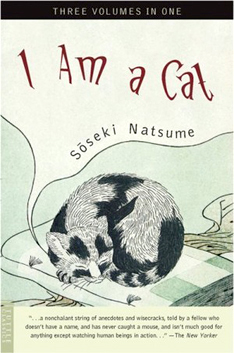 This landmark novel by one of Japan's most beloved writers, Soseki Natsume, is a satirical masterpiece, completed in 1906 and based in Natsume's contemporary Meiji Japan. Told from the surreal perspective of a world-weary cat, the novel is a running commentary on Japanese society and the folly of its middle-classes. The book also deals with the crossovers between Western culture and Japanese traditions, and the often humorous mimicking of one by the other. Each chapter carries the condensed narrative of a short story, as the feline narrator gleefully takes apart the lives and idiocies of a motley assortment of characters.
Like many Japanese novels of the period, I Am A Cat focuses on mood and atmosphere, creating a time capsule of an evolving Japan that continues to fascinate readers today.
Soseki Natsume was a man of many talents. Often touted as the foremost Japanese novelist of the Meiji period, Natsume was also a distinguished scholar of British literature and a prolific writer of Haiku and Chinese-style poetry. Following a difficult childhood, during which Soseki was adopted and then returned to his family, he was steered toward a career as an architect even though he had expressed his desire to write. Inspite of these pressures, Natsume switched to English literature at University and began, with the encouragement of friends, to define himself as a writer. Born with the first name Kinnosuke, much of Natsume's ambition and willfullness can be seen in his choice of pen name, Soseki, which is derived from the Chinese idiom meaning 'stubborn.' After graduation, Natsume became a teacher before being sent to England on a government scholarship. Although his time in London was poverty-stricken and lonely, Natsume consolidated his knowledge of English Literature and gained further inspiration for his writing, a career which began in earnest on his return to Japan in 1903.
Date: Monday 14 May 2012 (7.00pm)
Venue: 5th View, Waterstones, Piccadilly, 203-206 Piccadilly, London W1J 9LE
Fee: Free for Japan Society Members