Japan Society Book Club: Inspector Imanishi Investigates by Seichō Matsumoto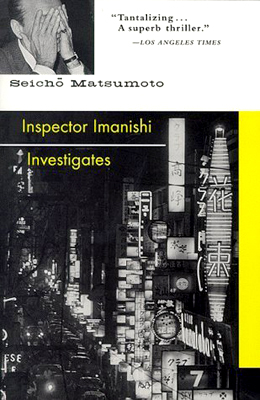 Titled 'Vessel of Sand' in the original Japanese edition, this classic Seichō novel opens with a brutal, rail-side murder and takes the reader on a spiralling journey deep into the heart of Japanese society.
The protagonist, Detective Imanishi, follows an investigation that stretches across rural and urban Japan, visiting far-flung places all across the nation. False trails and further deaths heighten the tension as Imanishi engages in an intellectual battle with the elusive murderer.
The novel focuses on the many contrasts in 1960s Japanese society, between city and country, pre-war and post-war, and an old culture battling with the new.
Seichō Matsumoto was born in what is now Kokura Kita Ward in the city of Kitakyushu. An only child from humble origins, he found work with the Asahi Shinbun after graduating from elementary school, designing newspaper layouts. After many years, Seichō's long-held aspirations to be a writer were encouraged by winning third prize in a short fiction competition run by the paper. Realising he could make money from his hobby, Seichō's reknowned work ethic took over – in the course of the career that followed he penned over 450 works of fiction, sometimes working on up to five novels at any one time.
During his lifetime, Seichō accumulated a broad sweep of Japanese literary trophies, including the much coveted Akutagawa Prize. Seichō was a life-long activist and his political engagement is evident throughout his writing. An obsessive reader from an early age, Seichō's enraged father destroyed his son's entire library because of the revolutionary texts it contained. Later in life the author travelled to Cuba and Vietnam following political causes.
Since his death in 1992, Seichō's reputation has grown to iconic status.
To reserve your place, please call the Japan Society office on 020 7828 6330, email events@japansociety.org.uk
Date: Monday 11 June 2012, 7.00pm
Venue: 5th View, Waterstones, Piccadilly, 203-206 Piccadilly, London W1J 9LE
Fee: Free for Japan Society Members