Japan Society Book Club – Rashomon and Seventeen Other Stories by Ryūnosuke Akutagawa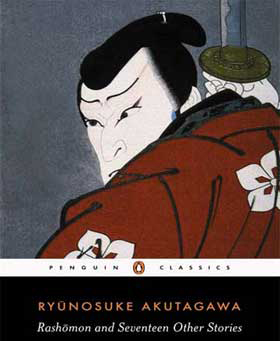 Akutagawa is one of Japan's foremost stylists – a modernist master whose short stories are marked by highly original imagery, cynicism, beauty and wild humour. 'Rashömon' and 'In a Bamboo Grove' inspired Kurosawa's magnificent film and depict a past in which morality is turned upside down, while tales such as 'The Nose', 'O-Gin' and 'Loyalty' paint a rich and imaginative picture of a medieval Japan peopled by Shoguns and priests, vagrants and peasants. And in later works such as 'Death Register', 'The Life of a Stupid Man' and 'Spinning Gears', Akutagawa drew from his own life to devastating effect, revealing his intense melancholy and terror of madness in exquisitely moving impressionistic stories.
Ryūnosuke Akutagawa (1892-1927) short-story writer, poet, and essayist, one of the first Japanese modernists translated into English. He was born in Tokyo in 1892, and began writing for student publications at the age of ten. He graduated from Tokyo University in 1916 with an English Literature degree and worked as a teacher before becoming a full time writer in 1919. His mother had gone mad suddenly just months after his birth and he was plagued by fear of inherited insanity all his life. He killed himself in 1927. Today, the semi-annual Akutagawa Prize is one of Japan's most prestigious literary awards, given to a new or emerging writer who has published the best literary story in a newspaper or magazine.
The book club is held on the second Monday of the month. There is no restriction on the nationality of the authors read, but books should be available in translation in both Japanese and English. The discussion is conducted mainly in English, but you can choose the language in which you read the book. The intention is simple: to explore the themes of the book, express personal opinions on the style and content, discuss how the book has changed (or not) in translation and to have a relaxed discussion with others who have similar interests.
Date: Monday 8 April 2013, 7.00pm
Venue: TBC
Fee: Free for Japan Society Members