Japan Society Book Club: Rouse Up O Young Men of the New Age! by Kenzaburo Oe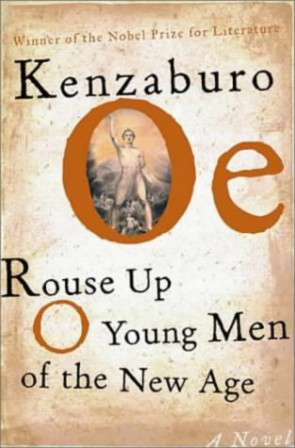 K is a famous writer living in Tokyo with his wife and three children, one of whom is mentally disabled. K's wife confronts him with the information that this child, Eeyore, has been doing disturbing things — behaving aggressively, asserting that he's dead, even brandishing a knife at his mother — and K, given to retreating from reality into abstraction, looks for answers in his lifelong love of William Blake's poetry.
The book club is held every month. There is no restriction on the nationality of the authors read, but books should be available in translation in both Japanese and English. The discussion is conducted mainly in English, but you can choose the language in which you read the book. The intention is simple: to explore the themes of the book, express personal opinions on the style and content, discuss how the book has changed (or not) in translation and to have a relaxed discussion with others who have similar interests.
Kenzaburo Oe, born in 1935 in Ehime prefecture, is a major figure in contemporary Japanese literature. His novels, short stories and essays were strongly influenced by French and American literature and literary theory. They deal with political, social and philosophical issues including nuclear weapons, nuclear power, social non-conformism, and existentialism. Oe was awarded the Nobel Prize in Literature in 1994 for creating "an imagined world, where life and myth condense to form a disconcerting picture of the human predicament today".
Date: Monday 14 March 2016, 7.00pm
Venue: The Japan Society, 13 / 14 Cornwall Terrace, London NW1 4QP