Japan Society Book Club: Shipwrecks, by Akira Yoshimura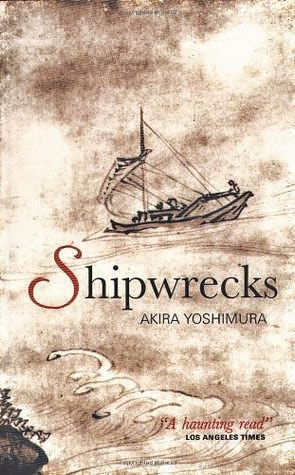 Shipwrecks, an atmospheric historical novel with a sting in the tail, is set in a medieval coastal village, where a father sells himself into indentured servitude to save his family from starvation. His nine year old son, Isaku, is forced to grow up well before his time, learning to trap fish, distil salt, and lure unwary ships onto the rocks. As the end of his father's bondage approaches, and another ship founders, Isaku and the villagers rejoice. But the cargo is not at all the manna of their hopes. At first mystifying, then terrifying, this cargo is about to change their lives forever.
"a haunting and beautifully rendered tale of enduring optimism." Herald
"Yoshimura's chronicle of pre-industrial Japan is economically told. It has an austerity that gives Isaku's matter-of-fact narrative the universality of folklore, but with a haunting other-worldliness." Guardian
"It has all the turbulent power of the sea that dominates the narrative, and the haunting fatefulness of the ways of nature and myth which dominate the book's themes." Scotsman
"Set against this tapestry of near-nihilistic misery, Yoshimura's chiaroscuro touches of hope and love hint at something more profound." Times Literary Supplement
"A laconic, exquisitely paced story." Sunday Times
Akira Yoshimura (1927 – 2006) was a prize-winning Japanese writer. He was the president of the Japanese writers' union and a PEN member. He published over 20 novels, of which On Parole and Shipwrecks are internationally known and have been translated into several languages. In 1984 he received the Yomiuri Prize for his novel Hagoku (破獄, Prison Break) based on the true story of Yoshie Shiratori.
The book club is held every month. There is no restriction on the nationality of the authors read, but books should be available in translation in both Japanese and English. The discussion is conducted mainly in English, but you can choose the language in which you read the book. The intention is simple: to explore the themes of the book, express personal opinions on the style and content, discuss how the book has changed (or not) in translation and to have a relaxed discussion with others who have similar interests.
Date: Monday 9 February, 7.00pm
Venue: The Japan Society, 13 / 14 Cornwall Terrace, London NW1 4QP