Japan Society Book Club – The Box Man by Kōbō Abe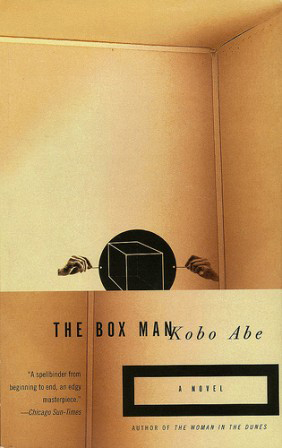 This dreamlike novel follows a protagonist who walks the streets of Tokyo clad in a cardboard box. Viewing the outside world through a peephole, the box man describes what he sees and what he imagines, the two often becoming interchangeable. Sinister characters stalk the periphery of his vision, from armed stalkers to imitators, the box man becomes increasingly haunted by his glimpses of fiction and reality.
Less a plot-driven narrative than a meditation on the nature of identity, The Box Man delves into our fears and insecurities employing a startlingly original perspective.
Kōbō Abe was a writer in multiple guises, both novelist and playwright, and also an avid photographer. His novels often have surrealist qualities, evoking nightmarish dystopias and focusing on the dislocation of an individual from society. A number of these novels have been adapted into films, most notably in collaboration with renowned director, Hiroshi Teshigahara.
Following a childhood in Manchuria, Abe looked destined for his father's medical profession, enrolling in a medical college on returning to Japan. However, by the end of his studies he was already a published author and had abandoned any efforts to obtain a credible qualification as a physician. Over the following decades Abe collected all of Japan's major literary awards, including the Akutagawa, Yomiuri and Tanizaki Prizes. He was nominated for the Nobel Prize for Literature several times but never won. Fellow Japanese author and 1994 Nobel Prize winner, Kenzaburō Ōe, stated that Abe deserved the award more than himself.
The book club is held on the second Monday of the month. There is no restriction on the nationality of the authors read, but books should be available in translation in both Japanese and English. The discussion is conducted mainly in English, but you can choose the language in which you read the book. The intention is simple: to explore the themes of the book, express personal opinions on the style and content, discuss how the book has changed (or not) in translation and to have a relaxed discussion with others who have similar interests.
Date: Monday 11 February 2013, 7.00pm
Venue: 5th View, Waterstones, 203-206 Piccadilly, London W1J 9LE
Free for Japan Society Members