Japan Society Book Club – The Briefcase by Hiromi Kawakami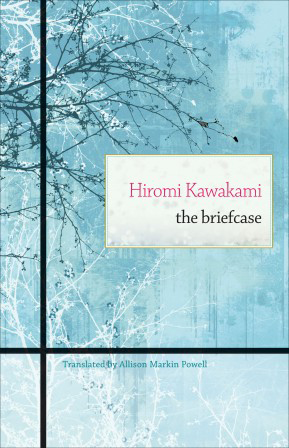 Tsukiko, thirty-eight, works in an office and lives alone. One night, she happens to meet one of her former high school teachers, 'Sensei' in a local bar. He is thirty years her senior, retired, and presumably a widower. Their relationship, traced by Kawakami's gentle hints at the changing seasons, develops from a perfunctory acknowledgment of each other as they eat and drink alone at the bar, to an enjoyable sense of companionship, and finally into a deeply sentimental love affair. From warm sake to chilled beer, from the buds on the trees to the blooming of the cherry blossoms, the reader is enveloped by a keen sense of pathos and both characters' shared loneliness.
Hiromi Kawakami (1958-) was born in Tokyo and graduated from Ochanomizu Women's College in 1980. She made her first debut as Yamada Hiromi in NW-SF #16, edited by Yamano Koichi and Yamada Kazuko, in 1980 with the story So-shimoku ('Diptera'), and also helped edit some early issues of NW-SF in the 1970s. She reinvented herself as a writer and made her second debut in mainstream literature with her first book, a collection of short stories entitled God (Kamisama) published in 1994. She is also known as a literary critic and a provocative essayist.
The book club is held on the second Monday of the month. There is no restriction on the nationality of the authors read, but books should be available in translation in both Japanese and English. The discussion is conducted mainly in English, but you can choose the language in which you read the book. The intention is simple: to explore the themes of the book, express personal opinions on the style and content, discuss how the book has changed (or not) in translation and to have a relaxed discussion with others who have similar interests.
Date: Monday 10 June 2013, 7.00pm
Venue: The Old Star, 66 Broadway,London SW1H 0DB