Japan Society Book Club: The Diving Pool by Yoko Ogawa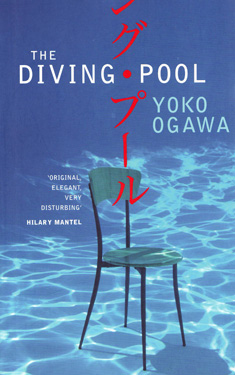 The Diving Pile compiles three stories by Yoko Ogawa: a lonely teenage girl falls in love with her foster-brother as she watches him leap from a high diving board into a pool, sparking an unspoken infatuation that draws out darker possibilities; a young woman records the daily moods of her pregnant sister in a diary, but rather than a story of growth the diary reveals a more sinister tale of greed and repulsion; and driven by nostalgia, a woman visits her old college dormitory on the outskirts of Tokyo, where she finds an isolated world shadowed by decay, haunted by absent students and the disturbing figure of the crippled caretaker.
The book club is held every month. There is no restriction on the nationality of the authors read, but books should be available in translation in both Japanese and English. The discussion is conducted mainly in English, but you can choose the language in which you read the book. The intention is simple: to explore the themes of the book, express personal opinions on the style and content, discuss how the book has changed (or not) in translation and to have a relaxed discussion with others who have similar interests.
Yoko Ogawa (小川 洋子 Ogawa Yōko, born March 30, 1962) was born in Okayama, Okayama Prefecture, graduated from Waseda University, and lives in Ashiya, Hyōgo, with her husband and son. Since 1988, she has published more than twenty works of fiction and nonfiction.
Date: Monday 13 July 2015, 7.00pm
Venue: The Japan Society, 13 / 14 Cornwall Terrace, London NW1 4QP