Japan Society Book Club – The Four Immigrants Manga by Henry Kiyama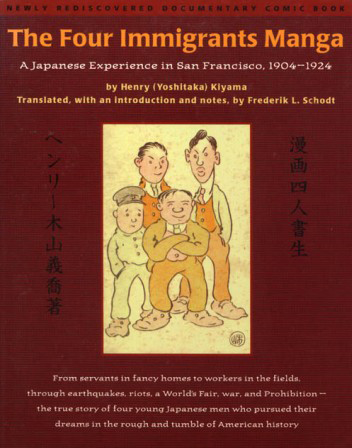 Henry (Yoshitaka) Kiyama was born on January 9, 1885, in Neu, a little village in Tottori Prefecture, western Japan. In 1904, at the age of nineteen, he sailed to San Francisco, where there was a growing community of Japanese immigrants, many of whom were shosei, or young student-workers. Kiyama was a talented artist, and while working at a variety of jobs he attended the San Francisco Art Institute. He excelled at life-drawing and painting, and between 1915 and 1920 won several awards and mentions. He also won a scholarship from the New York Art Students League and exhibited his work several times in San Francisco. Kiyama lived in San Francisco off and on until 1937, eventually opening his own art studio at 1901 Sutter Street, in nihonmachi, or "Japantown." It was a period of intense discrimination and agitation against Asian, and particularly Japanese, immigrants. In 1937, Kiyama returned temporarily to his homeland. While he was there, war broke out between the United States and Japan. Unable to return to San Francisco, Kiyama taught art at a local high school in Neu, and continued painting. Henry Kiyama died on April 24, 1951, at the age of sixty-six. Cartooning was but a small part of his life, but the comic book he created in San Francisco may ultimately ensure his lasting fame.
The book club is held every month. There is no restriction on the nationality of the authors read, but books should be available in translation in both Japanese and English. The discussion is conducted mainly in English, but you can choose the language in which you read the book. The intention is simple: to explore the themes of the book, express personal opinions on the style and content, discuss how the book has changed (or not) in translation and to have a relaxed discussion with others who have similar interests.
Date: Monday 12 May 2014, 7.00pm
Venue: The Old Star (basement alcove), 66 Broadway, London SW1H 0DB