Japan Society Book Club – The Life of an Amorous Woman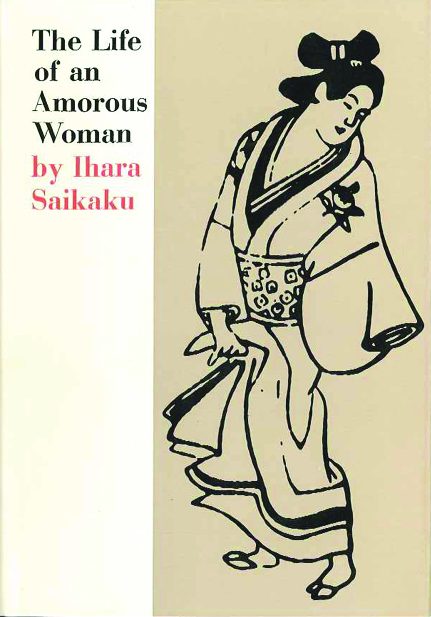 After a number of Book Clubs focusing on contemporary Japanese literature, we will be turning our attention to one of the early classics, Saikaku Ihara's The Life of an Amorous Woman.
Saikaku Ihara (1642-1693) dedicated the first 26 years of his career to poetry, at one point setting the record for the most haikus composed in 24 hours (allegedly 23,500, or one every 3.6 seconds). In later life he turned to novels, pioneering the Ukiyo-zōshi ('books of the floating world') genre – popular novels that attempted to depict life in the Edo period with clarity and realism. In particular he specialised in Kōshoku – erotic novels depicting gallantry, romantic love and sexual enjoyment. The Life of an Amorous Woman (1686) was the final novel in his set of erotic works, and in it Saikaku evokes the dark and seedy reverse side of his earlier novels. The translator, Ivan Morris, writes:
'The protagonist of The Life of an Amorous Woman is, in blunt terms, a nymphomaniac and the book describes the steady degradation that results from her efforts to find a constant variety of sexual enjoyment, while at the same time surviving economically as a single woman in a harsh feudal society… The life of a courtesan is no longer pictured in the rosy colours of the earlier works, but is revealed with full realism as a place where money rules the day and where sexual desire is rarely relieved by tenderness.'
Kenji Mizoguchi adapted the novel for his highly acclaimed film The Life of Oharu.
The book club is held every month. There is no restriction on the nationality of the authors read, but books should be available in translation in both Japanese and English. The discussion is conducted mainly in English, but you can choose the language in which you read the book. The intention is simple: to explore the themes of the book, express personal opinions on the style and content, discuss how the book has changed (or not) in translation and to have a relaxed discussion with others who have similar interests.
Date: Monday 10 November, 7.00pm
Venue: The Japan Society, 13 / 14 Cornwall Terrace, London NW1 4QP