Japan Society Book Club: The Pillow Book by Sei Shōnagon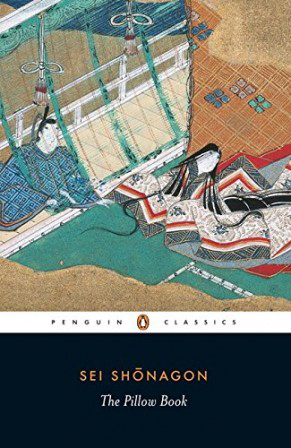 The Pillow Book (枕草子 Makura no Sōshi) is a book of observations and musings recorded by Sei Shōnagon during her time as court lady to Empress Consort Teishi (定子) during the 990s and early 1000s in Heian Japan. The book was completed in the year 1002. In it Sei Shōnagon included lists of all kinds, personal thoughts, interesting events in court, poetry, and some opinions on her contemporaries. While it is mostly a personal work, Shōnagon's writing and poetic skill makes it valuable as both a work of literature, and as an historical document.
The book club is held every month. There is no restriction on the nationality of the authors read, but books should be available in translation in both Japanese and English. The discussion is conducted mainly in English, but you can choose the language in which you read the book. The intention is simple: to explore the themes of the book, express personal opinions on the style and content, discuss how the book has changed (or not) in translation and to have a relaxed discussion with others who have similar interests.
Sei Shōnagon (清少納言, c. 966–1017/1025) , was a Japanese author, poet and a court lady around the year 1000 during the middle Heian period.Little is known about her life except what can be found in her writing. She was the daughter of Kiyohara no Motosuke, a scholar and well-known waka poet, who worked as a provincial official. Shōnagon became popular through her work The Pillow Book. It was circulated at court, and for several hundred years existed in handwritten manuscripts.
Date: Monday 10 October 2016, 7.00pm
Venue: The Japan Society, 13 / 14 Cornwall Terrace, London NW1 4QP