Japan Society Book Club: The Temple of the Golden Pavilion by Yukio Mishima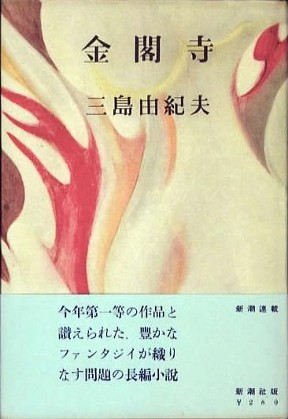 Date: Monday 12 March at 7.00pm
Venue: 5th View, Waterstones, 203-206 Piccadilly, London W1J 9LE
The Temple of the Golden Pavilion is loosely based on the events surrounding an arson attack on the Golden Pavilion carried out by a young Buddhist acolyte, Hayashi Yoken in 1950.
Mizoguchi, the main protagonist and narrator of the book suffers a troubled up-bringing in which he sees his mother's affair with another man exposed in front of his dying father. He also struggles at school where he has no friends and is constantly picked on. His life appears to turn around when he becomes an acolyte at a Buddhist temple, however, he quickly becomes obsessed with the beauty of the temple. Even when persuaded to explore the Geisha district by his friend Kashiwagi, Mizoguchi is unable to escape this obsession with the temple. His attempt to break away with this obsession leads to terrible consequences.
Yukio Mishima (1925-1970) was a Japanese author, poet, playwright, actor and director. He was nominated three times for the Nobel Prize for Literature and is considered one of the most famous and controversial Japanese authors of the 20th century. The Temple of the Golden Pavilion along with Forbidden Colours are two of Mishima's most well known novels.
The book club is held on the second Monday of the month. There is no restriction on the nationality of the authors read, but books should be available in translation in both Japanese and English. The discussion is conducted mainly in English, but you can choose the language in which you read the book. The intention is simple: to explore the themes of the book, express personal opinions on the style and content, discuss how the book has changed (or not) in translation and to have a relaxed discussion with others who have similar interests.