Japan Society Book Club – Where Europe Begins by Yoko Tawada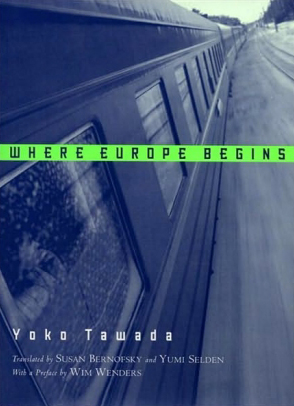 Moving through landscapes of fairy tales, family history, strange words and letters, dreams, and everyday reality, this collection of stories blurs divisions between fact and fiction, prose and poetry. Set in places as disparate as Japan and Siberia, these are tales of a fragmented world.
Yōko Tawada (多和田葉子 Tawada Yōko, born March 23, 1960) is a Japanese writer currently living in Berlin, Germany. She writes in both Japanese and German.Tawada was born in Tokyo, received her undergraduate education at Waseda University in 1982 with a major in Russian literature, then studied at Hamburg University where she received a master's degree in contemporary German literature. She received her doctorate in German literature at the University of Zurich. In 1987 she published Nur da wo du bist da ist nichts—Anata no iru tokoro dake nani mo nai (A Void Only Where You Are), a collection of poems in a German and Japanese bilingual edition. Tawada's Missing Heels received the Gunzo Prize for New Writers in 1991, and The Bridegroom Was a Dog received the Akutagawa Prize in 1993. In 1999 she became writer-in-residence at the Massachusetts Institute of Technology for four months. Her Suspect on the Night Train won the Tanizaki Prize and Ito Sei Literary Prize in 2003. Tawada received the Adelbert von Chamisso Prize in 1996, a German award to foreign writers in recognition of their contribution to German culture, and the Goethe Medal in 2005.
The book club is held on the second Monday of the month. There is no restriction on the nationality of the authors read, but books should be available in translation in both Japanese and English. The discussion is conducted mainly in English, but you can choose the language in which you read the book. The intention is simple: to explore the themes of the book, express personal opinions on the style and content, discuss how the book has changed (or not) in translation and to have a relaxed discussion with others who have similar interests.
Date: Monday 10 March 2014, 7.00pm
Venue: The Old Star, 66 Broadway, London SW1H 0DB