Japanese and English storytelling in Birmingham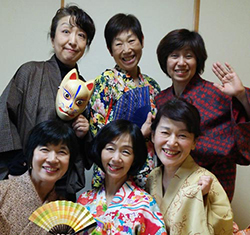 We are delighted to present Kataritetachi no Kai from the Storytellers' Association of Japan, keeping alive the strong tradition of Japanese traditional storytelling. This is a rare appearance of Japanese storytelling in this country.
Their programme includes song, dance, tandem telling, Kamishibai picture theatre and lots of audience participation. Also Momotaro song and dance, a variety of funny stories such as The mouse sutra, The old man who swallows a bird, Treasure Getas, The tale of two snakes that bit each other, and Snake and Worm with the musical instrument, a Kamishibai Ninja story and also a Fukushima story.
Joining them will be Graham Langley and Pam Bishop from the Traditional Arts Team and Storytellers Studio.
Kataritetachi no Kai will be telling their stories in English but we won't be telling our stories in Japanese. We are delighted to be hosted by Centrala, a delightful cafe and gallery in the heart of Digbeth and not far from the middle of town. Cakes, snacks and drinks will be available to give you a great Storytelling Cafe atmosphere and a brilliant night of stories.
Admission: £7
Date: 12 July 2016
Venue: Centrala, Minerva Works, 158 Fazeley Street, Birmingham B5 5RT
Email: graham@tradartsteam.co.uk
Tel: 07946718286
Web: http://www.tradartsteam.co.uk/calendar.html?a=viewevent&id=952
Organiser: Traditional Arts Team