Japanese Bokusai Art Exhibition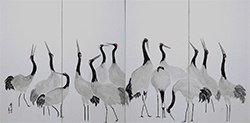 An exhibition of paintings created by the Japanese artist Ichijoh Shimotani entitled 'Life and hopes for the future'. This four-day exhibition is in recognition of the 20 year memory of the Great Hanshin or Kobe Earthquake in Japan on 17th January 1995.
Along with the display of her masterpieces, Ichijoh will be holding a live painting exhibition. The theme will be the designated world heritage site, Mt.Fuji, a world-renown symbol of Japan.
During this exhibition the organization that she represents will raise money for Leukaemia & Lymphoma research.
Date: 2nd – 4th October 2015 10.00-19.00 / 5th October 2015 10.00-17.00
Venue: Double Tree by Hilton West End, 92 Southampton Row, London WC1B 4BH
E-mail: ichijoh.shimotani@gmail.com
Web: http://www.ichijoh-shimotani.com
Organiser: Ichijoh Shimotani (artist) & The Japan Modern Bokusai Art Association