Japanese Elements Within Freemasonry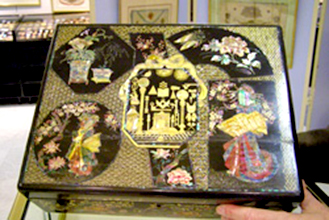 The catechistic ritual dramas performed by Freemasons during their lodge meetings revolve around Judeo-Christian concepts centered on the building of King Solomon's Temple. Unbeknownst to most, an indigenised Japanese version of this known as The Kanto Ritual was proposed with a focus on the construction of Todai-ji.
This lecture will explore the standard ritual practices of regular Freemasonry, the ideas behind The Kanto Ritual, and examples of Masonic artwork related to Japan in the form of Masonic lacquer boxes. It will be preceded by an optional tour of the Freemasons' Hall at 5.15pm for 5.30pm.
Date: 29 October 2014, 6.30pm
Venue: Lodge Room No.11, The Freemasons' Hall, Great Queen Street, London WC2B 5AZ
Email: events@japansociety.org.uk
Tel: 020 307501996
Web: http://www.japansociety.org.uk/
Organiser: The Japan Society,the Japan Room