Japanese Exhibition: 50/50 Working in Parallel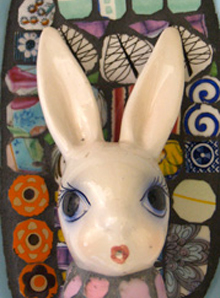 Date: 2 March – 14 April 2012
Venue: Contemporary Applied Arts, 2 Percy Street, London, W1T 1DD
Tel: 0207 436 2344
Email: sales@caa.org.uk
Web: http://www.caa.org.uk
Organiser: CONTEMPORARY APPLIED ARTS
Contemporary Applied Arts is pleased to present the second leg of this remarkable touring exhibition by renowned textile artist, Matthew Harris and mosaic artist, Cleo Mussi.
Harris and Mussi have lived and worked side by side in various studios since 1987 and 50/50 is their first joint exhibition.
Inspired by a recent trip to Japan, the show explores ideas and imagery gleaned whilst exploring the temples and gardens of Kyoto, the art galleries and architecture of Tokyo and the Naoshima Inland sea.
The content of the show is in two halves; whilst Harris's cloth works are abstract compositions that breathe into the space leaving the viewer time for contemplation, Mussi's figurative mosaic wall panels represent the mad chaos, modern production and contemporary imagery that is the flip side of Japanese culture.
On initial viewing the two bodies of work may appear to have little in common. However, closer study reveals a shared language that involves the repetitive construction of whole complex images from pieces of cloth, paper and reclaimed ceramic. The process of fragmenting materials, its reconstruction and echoed imagery is the artists' common ground.
With inspiration ranging from tea bowl fragments, traditional Noren room dividers and calligraphic fly stickers (Harris) to Japanese Kokeshi dolls, Pachinko gambling machines, mythical spirits, clusters of creatures based on mobile phone charms and even sushi (Mussi), 50/50 at CAA promises to be a highly original, colourful and fascinating exhibition. Everything in the exhibition will be available for sale with prices for both artists' work starting at around £260.
Matthew Harris graduated from the textile course at Goldsmiths College in 1987. He has exhibited in Japan, the U.S.A and Europe and has work in the Crafts Council collection and The Whitworth Art Gallery. He creates abstract pieces that explore repetition, pattern and the disrupted journey of line and image across and through the surface of cloth.
Cleo Mussi trained at Goldsmiths College and is an internationally recognised mosaic artist, known for her humorous twists and attention to detail as observed in her solo touring installations: 'The Crowd', 'A-Z – a hand book' and, most recently, 'Pharma's Market – a live stock and produce show'. She has also completed a number of large commissions for public spaces including The John Lewis partnership in Solihull and the BBC Asian Network in Leicester.'
About CAA: Founded in 1948 and registered a charity since 1967 CAA champion and promote only the very best applied artists in their field. Today, CAA's Percy Street gallery is the premiere exhibition and retail venue for the appreciation, education and purchase of the best British craft.