Japanese Folk: Song, Dance, Instruments (Summer School)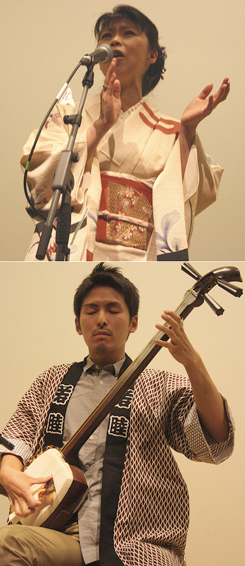 Traditional folk song (min'yo) opens doors to various aspects of Japan's culture and also to a challenging world of music and dance. Participants will taste not only the singing and a bit of dancing but also the instruments: shamisen 3-stringed 'banjo', shakuhachi and shinobue bamboo flutes, and percussion.
The main teachers will be the professionals Yoshie Asano Campbell (magical singer and dancer) and Hibiki Ichikawa (master of the rocking Tsugaru-jamisen), with support from Joe Browning (shakuhachi) and others.
The course is for all levels, though there will be no lessons for beginners on shamisen or shakuhachi (just a chance to try these instruments briefly). Content will be structured to meet the interests and backgrounds of those who enrol; contact David Hughes (dh6@soas.ac.uk) for information.
Course fee: £90 (concessions £70); booking form on website
Date: 21 – 23 June 2013, Fri 6.30-9pm, Sat-Sun 11am-5pm
Venue: SOAS main campus, Thornhaugh Street, Russell Square, London WC1H 0XG
Email: musicevents@soas.ac.uk
Web: http://www.soas.ac.uk/music/summermusicschool/21jun2013-japanese-folk-music-song-dance–instruments.html
Organiser: SOAS, University of London