Japanese Home Cooking with Vegetables – Special Class at Sozai Cooking School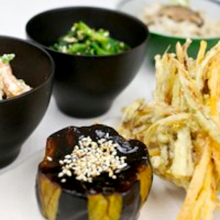 How to make your own Japanese food? Thanks to Sozai Cooking School we are delighted to offer Japan Society members the opportunity to join a Japanese home cooking class. This is a wonderful chance to learn Japanese cooking skills from a professional chef, Akemi Yokoyama. Akemi will teach you how to cook some popular, healthy and tasty Japanese vegetable dishes at home.
Menu:
Mixed Japanese mushroom and ginger rice cooked with sake
Kakiage (crispy tempura made with mixed vegetables strips)
Grilled aubergine with black miso
Spinach with white sesame sauce
Green beans with Tofu and sesame sauce
All ingredients and cooking equipment will be provided, but you may wish to bring an apron.
Akemi Yokoyama's enthusiasm for gastronomy originated early in her childhood in Sapporo, where enjoying the spoils of foraging for wild vegetables and sea fishing were a regular part of family life. This gave her an understanding of the importance of using the freshest, highest quality ingredients and of the taste pairings in Japanese food. Akemi came to London in 1985, where she learned sushi making while working in London's popular Japanese restaurant Hiroko.
Sozai is the first cooking school in the UK dedicated to authentic Japanese food. In addition to well-known dishes like sushi and tempura, the school offers a wide variety of classes covering traditional cuisine, such as multi-course kaiseki and vegan shojin, and casual and street food including ramen noodles and savoury okonomiyaki pancakes.
Date: Wednesday 17 September 2014, 7.00pm-9.00pm
Venue: Sozai Cooking School, 5 Middlesex Street, London E1 7AA
Fee: £38 – Special price for members of the Japan Society and their guests