Japanese in Anime and Manga: Workshop for Japanese Language Learners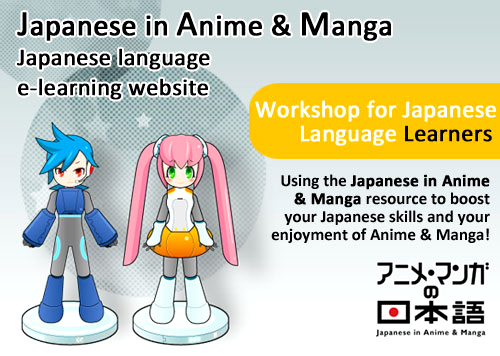 Boost your understanding of the world of anime & manga while increasing your Japanese language skills using a specially-designed online resource!
Japanese in Anime & Manga (anime-manga.jp) is an e-learning site created by the Japan Foundation to give Japanese learners and anime & manga fans an opportunity to learn Japanese in an enjoyable way, using the anime & manga they enjoy as a gateway to their studies. The site features language actually used by characters in anime and manga works popular overseas, enabling users to learn styles of Japanese not found in the usual textbooks and dictionaries. Users can also learn through quizzes and games, choosing their own preferred study contents and method, according to their own level and interests.
This workshop, hosted by Ms Nanae Kumano (Developer of the Japanese in Anime & Manga website and Language Education Specialist at Japan Foundation Madrid), will introduce learners to the Japanese in Anime & Manga website, and explore how the site can be used to enhance your own Japanese language studies and enjoyment of Japanese culture.
The workshop will take place in two different venues:
1. The University of Edinburgh | Thursday October 4th 2012, 16:00-18:00
Levels: Basic – Advanced (JLPT N5 – N1/Level 1); English explanations will be given.
This event is supported by the University of Edinburgh and is free for all participants.
2. The Japan Foundation London | Friday October 5th 2012, 18:30 – 20:30
Levels: Intermediate – Advanced (JLPT N3/Level 3 – N1/Level 1); The workshop will be in Japanese
Fee: £3.00 (to paid on arrival on the day, cash only accepted)
Limited to 40 participants – First come, first served
This workshop is for learners of Japanese. If you are a teacher of Japanese, please click here for details on our Japanese in Anime & Manga Workshop for Teachers.