Japanese Plus: An Introduction to Professional Japanese Interpreting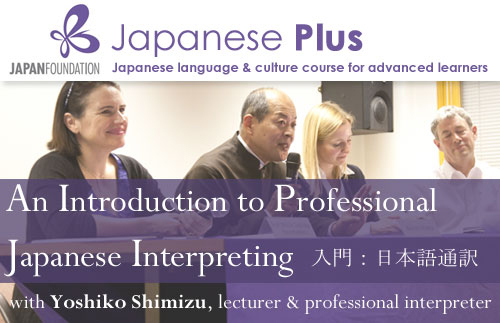 The Japan Foundation are delighted to present a very special Japanese Plus course for Japanese language learners interested in exploring the professional world of interpreting, as well as brushing up on vocabulary and expressions used in formal business Japanese. By trying out liaison interpreting and consecutive interpreting for yourself, you will be able to experience first-hand what it is like to be a professional interpreter, and discover the challenges and rewards within this field.
This course will be led by Yoshiko Shimizu, a professional Japanese interpreter and translator, and former Course Director at the University of Bath. She holds a Master's degree in Linguistics and Translation Studies from the University of Birmingham and is also an external examiner for a number of UK universities.
This is a unique opportunity to learn valuable interpreting techniques and gain insight into the world of interpreting from an expert in the field.
Date: 12 February 2013 – 6 March 2013 from 6.30pm
Venue: The Japan Foundation, London