Japanese Plus: Japanese language and culture course for advanced learners – Japanese Dialects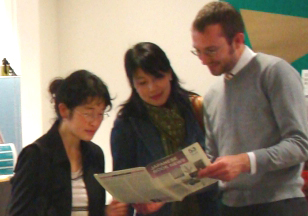 Japanese Plus is designed for adult learners of Japanese interested in updating and refreshing their knowledge about Japan whilst practising their Japanese language skills in a series of evening classes at the Japan Foundation London.
This term's theme is「方言:方言で分かる深~い日本!」- "Japanese Dialects: Deepen your Japanese knowledge through learning dialects!" In this course, participants will have the opportunity to enjoy listening and speaking in a variety of Japanese regional dialects while developing their language skills and confidence. There will also be an opportunity to sample sake and snacks from around Japan. The course will be led by Hiroko Tanaka, Japanese Language Advisor at the Japan Foundation London. It will be held in Japanese.
Date: 7th – 29th June (4 weeks), on Thursday or Friday – the content is the same on each day, and you can choose which day is most suitable for you.
Time: 18:30 – 20:30
Venue: The Japan Foundation, Russell Square House, 10-12 Russell Square, London WC1B 5EH
E-Mail: Info.language@jpf.org.uk
Tel: 020 7436 6698
Web: http://www.jpf.org.uk/whatson.php#444
Organiser: The Japan Foundation