Japanese Retro games and Karaoke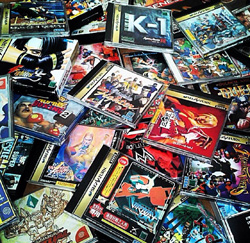 Re-live the golden years with legendary Japanese fighters from the yesteryears on all four generation of SEGA consoles (Master System,Mega Drive, Saturn, Dreamcast).
• Legendary games including Super Street Fighter II, Fatal Fury, King of Fighters 95, Guilty Gear X, Dead or Alive 2, Virtual On, Street Fighter Zero, Fighting Vipers, Ready 2 Rumble Boxing,Golden Axe:The Duel, Virtua Fighter 2, Fighters Megamix, Marvel Vs Capcom 2 and many more…
• Sexy CRT TVs and a Projector screen
• Competition
• Retro Prizes to give away
• 3-D gaming (80s styley!)
• 2for1 cocktails until 9pm
• DJ – Electronic sounds of the 80s/90s
• and most importantly….80s/90s KARAOKE on the MEGA-CD!
• Anime/Gaming Cosplayers get in FREE
8,16,32 and 128-BIT Japanese Retrotainment….all under an award winning cocktail bar….
Admission: £2.50, **Cosplayers get in FREE!!**
Date: 5 March 2014
Venue: REZtron (Basement of The Hoxton Pony) The Hoxton Pony,104-108 Curtain Road , EC2A 3AH London
Email: info@reztron.co.uk
Web: http://www.reztron.co.uk
Organiser: REZtron