Japanese Robata Grill Inspired Supper Club – With Jenius Social – Hosted by Silla Bjerrum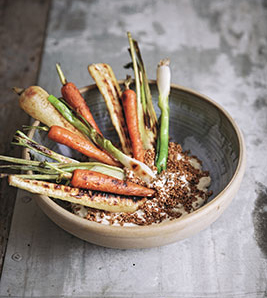 We are delighted to announce an informal Japan Society supper club again, organised in partnership with Jenius Social and renowned chef and food consultant, Silla Bjerrum. Following our successful miso inspired supper club and sake & izakaya dining events, this is another opportunity to relax with other members of the Japan Society. Bring your friends, or simply come and meet new people. We look forward to seeing you there, but please be quick – places are limited.
Our host for this evening's supper club is Silla Bjerrum, co-founder in the late 1990s of London's first sushi delivery service, Feng Sushi. She is also known as an advocate for sustainability in food consumption and production, actively seeking positive solutions. She has become well-known as a sushi specialist, but her passion for good food does not stop at sushi. Her new book Robata: Japanese Home Grilling is published in April. In it she shares the appeal of robatayaki, a style of cooking which allows the flavours of the raw ingredients to shine.
£45 per head
Date: Thursday 10 May 2018, 6:30 pm for 7:00 pm start
Venue: Jenius Social, 6 Hornsey Street, Studio 8, London N7 8GR