Japan's Modern History, 1857-1937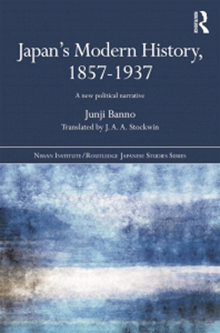 Professor Junji Banno is a prolific and widely read writer on the political history of modern Japan, whose many insights into its kaleidoscopic politics from the middle of the nineteenth century until the late 1930s have re-written various aspects of Japanese political history. This translation of his latest work by Professor Arthur Stockwin treats eighty crucial years of history with a combination of synoptic overview and fascinating detail.
The story is one of high drama – the transformation of a self-isolated nation, whose political system was based on a power balance frozen in time, into an ambitious modern power with international weight in East Asia and the world. A regime that had lasted more or less intact for some 250 years, from the 1860s was subjected to one of the most spectacular and comprehensive revolutions of modern times anywhere in the world. In the view of the author, this is the only true revolution Japan has ever experienced, but by his cut-off date of 1937 the revolution had degenerated into what he calls the "politics of small slices" – in other words of extreme political fragmentation that left the road open to reckless military adventure.
Date: 8 October 2014, 6:00pm
Venue: Daiwa Foundation Japan House, 13/14 Cornwall Terrace, Outer Circle, London NW1 4QP
Tel: 020 7486 4348
Email: office@dajf.org.uk
Web: http://www.dajf.org.uk
Organiser: The Daiwa Anglo-Japanese Foundation