Johnnie To's ELECTION Special Screening at the Prince Charles Cinema on Wednesday 30 April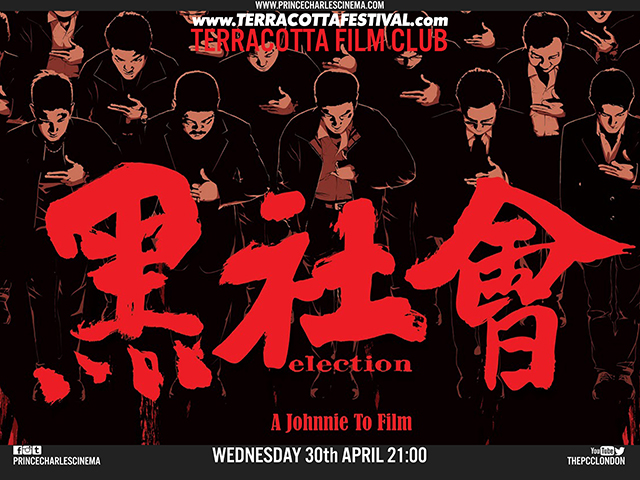 Sang Yut Fai Lok, Johnnie To! The master of Hong Kong genre cinema, whose film career spans over 25 years, celebrates his birthday in April; so what better time to screen one of his finest films.
Terracotta Film Club presents ELECTION, a powerful modern Triad thriller set in a criminal underworld, steeped in tradition, code and ritual, starring two Hong Kong cinema stars Simon Yam and Tony Leung Ka Fai.
Murky politics and brutal beatings in this intelligent look at Triad society; that's a 'must-see' for fans of THE GODFATHER, GOODFELLAS and THE SOPRANOS and offers a realistic look at what it means to be a gangster in Hong Kong today.
As with previous editions, the event will run for one night only on Wednesday 30 April at the Prince Charles Cinema in London.
This enthusiasm is a real encouragement and Terracotta organisers will pursue their efforts to show Asian films regularly on the big screen throughout the year.
Date: Wednesday, 30 April 2014 at 9pm
Venue: The Prince Charles Cinema, 7 Leicester Place, London WC2H 7BY