Joint Lunch for His Excellency The Japanese Ambassador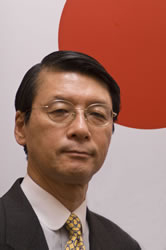 The guest of honour at the Japan Society and the Japanese Chamber of Commerce and Industry in the UK's second joint lunch of 2016, will be His Excellency the Japanese Ambassador, Mr Keiichi Hayashi, the President of the Japan Society.
Ambassador Hayashi will shortly be leaving London on retirement from the Japanese Ministry of Foreign Affairs, after a tour of duty as Ambassador to the Court of St James of over five years. He took up his post in early 2011, shortly before the tragedy of the Great East Japan Earthquake and tsunami. In 2012 he oversaw the visit of Their Majesties the Emperor and Empress of Japan on the occasion of the Queen's Diamond Jubilee, and he has of course been Ambassador during the 2012 London Olympics and last year's Rugby World Cup, as well as receiving a full programme of high level governmental visits, including two visits by the Japanese Prime Minister, Shinzo Abe.
This joint lunch provides a timely opportunity for the Ambassador to look back over his period in office and reflect on the current state of, and future potential for UK/Japan relations.
Keiichi Hayashi was Political Counsellor and then Political Minister at the London Embassy from 1996–1999 and served as Minister Plenipotentiary and Deputy Head of Mission in 2010, before his appointment as Ambassador. He also has extensive experience working on Japanese diplomatic missions in areas as diverse as South-east Asia, North America and Ireland.
Following a two-course lunch, Ambassador Hayashi will speak for about 20 minutes, after which there will be time for questions until 2.30pm.
Date: Tuesday 17 May 2016, 12.30pm for 1.00pm
Venue: Cavalry & Guards Club, 127 Piccadilly, London W1J 7PX