Joint lunch with JCCI: The UK-Japan 21st Century Group's 32nd Annual Meeting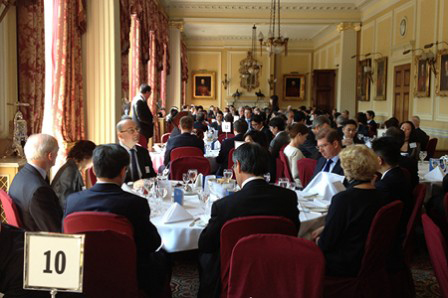 The guests at the next Japan Society and JCCI Joint Lunch will be the co-Chairmen of the UK-Japan 21st Century Group, Mr Yasuhisa Shiozaki and the Lord Howard of Lympne, together with other British and Japanese members of the Group.
The 21st Century Group is a non-Governmental forum. It was set up in 1984 to help cement closer links between British and Japanese politicians, business and media figures, and academics. It meets each year, alternating between Japan and the UK, to discuss issues of mutual national interest, reporting direct after each meeting to the British and Japanese Prime Ministers. Membership of the group varies from year to year but includes Members of the UK Parliament and of the Diet, experts on the issues being discussed, senior business representatives and well-known media commentators.
For this lunch, members of the 21st Century Group will be spread through tables of ten, otherwise made up of members of the Japan Society and of the JCCI; all attendees will be allocated seats. The co-Chairmen will make brief speeches, but the aim of the lunch will be to enable the members of the Society and the Chamber to discuss current issues of interest in UK/Japan relations directly with the members of the Group. There will be designated rapporteurs on each table, who can feed back any specific points after the lunch as necessary.
We are indebted to Nikko AM for funding the participation of the delegates from the 21st Century Group.
This is an important event: dialogue with the parliamentary and other delegates who will be going straight on to debate the same issues over the weekend, will give our members a chance to provide input to key questions and also to ensure that the members of the Group are aware of the issues faced by those involved in UK-Japan relations here in the UK.
Date: 3 September 2015,, 12:30 for 1.00pm
Venue: The Cavalry and Guards Club, 127 Piccadilly, London W1J 7PX
Tel: 020 3075 1996
Email: events@japansociety.org.uk
Web: http://www.japansociety.org.uk/event/jcci-uk-japan-32nd-meeting/
Organiser: The Japan Society