Joint Lunch with JCCI: with special guest Nick Clegg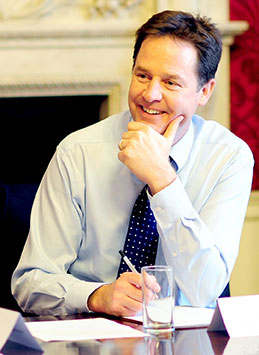 On Wednesday, 29 March 2017, Prime Minister Theresa May invoked Article 50 of the Lisbon Treaty, formally beginning negotiations on Britain's departure from the European Union.
In the run up to the EU Referendum, Nick Clegg – former Deputy Prime Minister and leader of the Liberal Democrats – was a leading campaigner to remain in the EU and was appointed Liberal Democrat Brexit spokesperson. Mr Clegg has raised a number of challenges to the government on their proposed Brexit strategy, questioning the impact of a 'hard Brexit' on both the UK economy and wider geopolitical relations.
For their second joint lunch of 2017, the Japan Society and the Japanese Chamber of Commerce and Industry in the UK are delighted to welcome Mr Clegg, who will speak on the key issues facing the UK during the Brexit process. He will also consider the role of business and what companies can do to influence the ongoing negotiations.
£50 per head Members of the Japan Society, the JCCI and their guests
Booking essential
Date: Wednesday 21 June 2017 12.30pm for 1.00pm
Venue: National Liberal Club, Whitehall Place, London SW1A 2HE