Joji Hirota and The London Metropolitan Orchestra and with The London Taiko Drummers "Beyond the Requiem " 2 years from the earthquake and tsunami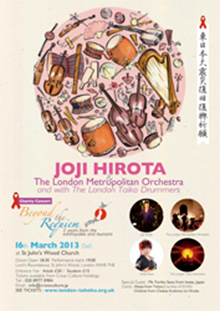 Fundraising Concert in aid of the victims of the earthquake and Tsunami disaster of 11th March 2011. Raising awareness of the need for continuous support for the people of Tohoku. Introducing the beautiful Japanese Folk Songs (Minyo songs from the Tohoku region) arrangements for strings orchestra, by musician and composer, Joji Hirota to a wider audience. Japanese Taiko drumming adds strength, power and peace for the future of Tohoku and to all who listen to this music.
Joji & Aisuke invite Ms Yoriko Sano, multiple champion of Japan's National Minyo Competitions as special guest from Morioka, Japan, and she would like to acknowledge and thank the support of the British people with her beautiful singing.
Date: : 16 March 2012, 6:30pm
Venue: St John's Wood Church, Lord's Roundabout, St John's Wood, NW8 7NE
E-mail: info@crossculture.jp
Tel: 020 8977 0984
Admission: Adult: £20/ Student: £15
Web: www.jojihirota.com
Organiser: Joji Hirota Music Productions and Cross Culture Holdings