Julia Adeney Thomas: Photography and Japan's 1960 Anpo Crisis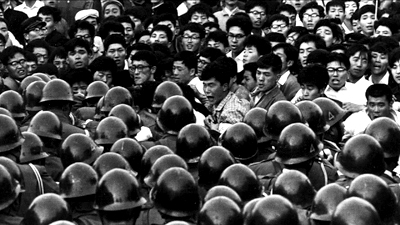 When the protests against the 1960 Japan-America Security Treaty (Anpo) erupted and sixteen million people nationwide took to the streets, photographer Hamaya Hiroshi was among them, documenting the mayhem, hope, and ultimate defeat of the opposition. Julia Adeney Thomas will explore the purpose served by his photographs, asking whether they opened up a new civic space or memorialized its closure.
Using images and drawing on contemporary theories of photography, this lecture considers the nature of the photograph as a political space. It will show how Hamaya's 1960 images fit into a history of Japanese photography, and argues that the photographic movement of 'realism' begun during the war and extending into the 1950s came to an abrupt end in 1960 when photography – and many other forms of social action – were excluded from the process of constructing the postwar political reality by the increasingly dominant LDP.
This abrupt change shows that photography as a practice capable of enhancing and even producing a democratic public sphere (as opposed to photography as an art, as a commercial enterprise, or as a strictly personal commemorative exercise) requires not just the permission of the state where 'reality' is understood as molded collectively and contested visually. Once the decision had been made to create a bureaucratically directed Japan dedicated not to participatory democracy but to economic growth, the political capacities of the camera were undermined. Hamaya and many of his generation of photographers (and younger practitioners as well) turned away from society to nature and aesthetic expression. This is the story of an end to certain postwar hopes told through the camera lens.
Dr Julia Adeney Thomas writes about nature, politics, historiography, and photography in Japan and comparatively. Her interest in how we grapple with the natural world has led to work on the Korean DMZ, a comparison of Maruyama Masao's ideas with those of Frankfurt School philosophers, a manifesto on the future of environmental history for Munich's Rachel Carson Centre, and Reconfiguring Modernity: Concepts of Nature in Japanese Political Ideology (winner of the 2002 John K. Fairbank prize from the American Historical Association) as well as the forthcoming edited volume Japan at Nature's Edge with Brett Walker and Ian Miller. Articles on Japanese photography during and after the war have appeared in The American Historical Review, History and Theory, and The Journal of Asian Studies among others. Trained at Princeton, Oxford, and Chicago, she has taught at the University of Illinois at Chicago, the University of Wisconsin-Madison, and, currently, the University of Notre Dame where she is associate professor of history.
To reserve your place, please call the Japan Society office on 020 7828 6330 or email events@japansociety.org.uk
Date: Monday 21 May 2012, 6.45pm
Venue: The Oriental Club, Stratford House, 11 Stratford Place, London W1C 1ES
Fee: Free – booking recommended
Please note: A pay bar is available before the lecture, Oriental Club rules require gentlemen to wear jacket and tie