K-Lit : Taking Its Place on the Korean Wave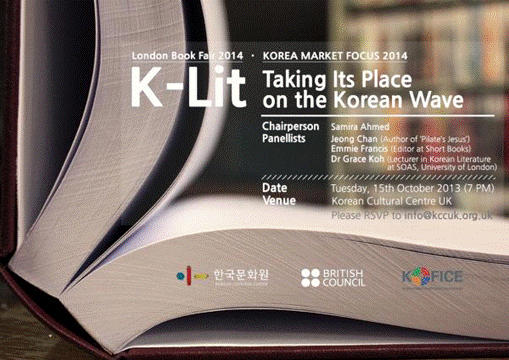 British Council and Korean Cultural Centre UK would like to invite you to 'K-Lit : Taking Its Place on the Korean Wave' forum on Tuesday, 15th October 2013 (7 PM) at the KCCUK.
This event, chaired by BBC journalist Samira Ahmed, will present a panel discussion about developments and themes in contemporary Korean literature and will celebrate a launch for the Korea Market Focus in 2014. Also, Dr Grace Koh, Jeong Chan, Emmie Francis (Short Books) will join for the panel discussion, which will be followed by a reception.
* Dr Grace Koh is a lecturer in Korean Literature at SOAS, University of London, where she has convened the MA Korean Literature and MA Comparative Literature programmes and teaches courses on Korean literature, literary theory, and translation. She received her BA in Comparative Literature and French Studies at the American University of Paris, MSt in Korean Studies and DPhil in Oriental Studies (Korean Literature) at Oxford University. Her research areas include Korean and East Asian literary prose traditions; literary and intellectual history; travel literature and cultural encounters; critical theory and comparative literature.
* Jeong Chan The author Jeong Chan has concentrated on the impossible questions 'Can humans ever be redeemed?' and,'What is the origin of existence?' which are so immense that nobody could ever answer them.
Many of the main characters in Jeong Chan's novels are novelists. Through these characters he investigates ontological questions such as "What is the novel and the novelist?" and "How difficult is it to be a novelist in the 21st century?" He is interested in concepts such as Power, the Almighty and Redemption. The main characters grab these concepts and struggle with them throughout his novels. His novels are a prophecy rather than a story, each a representation of friendship.
* Samira Ahmed is a journalist, broadcaster and visiting professor of journalism at Kingston University and lives in New Malden, where she developed her love of Korean culture. She presents Sunday Morning Live and Newswatch on BBC1, Night Waves on Radio 3, Something Understood on Radio 4 and has makes documentaries for Radio 4 on subjects ranging from David Bowie to Westerns. She writes a column for The Big Issue and contributes to newspapers including The Guardian. She won a Stonewall Broadcast of the year award while a reporter and presenter at Channel 4 News. Samira began her career as a BBC news correspondent and has worked as a reporter on Newsnight, the Today programme, as the BBC's Los Angeles Correspondent and news anchor for Deutsche Welle TV in Berlin.