K. MICAL / A QUI AVEC GABRIEL DUO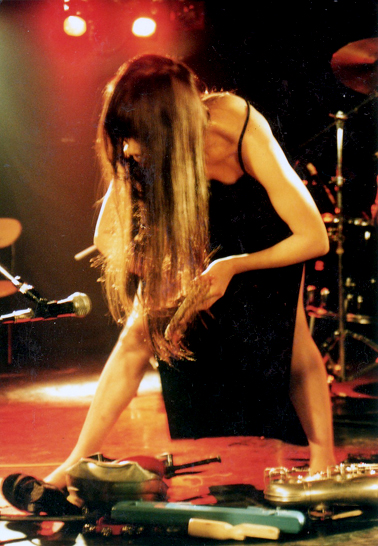 Date: Sunday 22nd May 2011 (8.00pm)
Venue: Cafe OTO, 18-22 Ashwin St, Dalston, London E8 3DL
Email: info@cafeoto.co.uk
Web: www.cafeoto.co.uk
Tickets: £6 adv. / £7 on the door
Two women of the Japanese avant-garde – one chasing ecstatic bliss, the other disappearing into reclusive silence and melancholy breath singing tales of shadow and folly. Join us for an evening of the unknown and discover what might emerge from this alchemy of opposites.
K. MICAL
Voice, Melodica, Percussion, Performance
Both a musician and a performer in the broader sense, K. Mical studied with buto dancer Tatsumi Hijikata before joining the avant-garde theater Homo Fictus Opera and starting a duo with Tamio Shiraishi. A member of famed NYC improv troupe No Neck Blues Band, She recently relocated to Tokyo from New York.
A QUI AVEC GABRIEL
Voice, Accordion
A qui avec Gabriel is a young accordion player steeped in French Romanticism and moody exotica. With the innocence and charm of Erik Satie, her debut recording Utsuho depicts the soul's journey from night until dawn, through day to dusk, visiting along the way dark storms, shining drops of light, cats, mysterious winds and galactic voices. Accompanied at times by violin, clarinet, piano and the eerie guitar and voice of Keiji Haino, Utsuho is a uniquely personal CD of lyrical beauty.
[pro-player width='530′ height='253′ autostart='true' type='video']http://www.youtube.com/watch?feature=player_embedded&v=sTK2OQ_-iAA[/pro-player]