Kabuki – On Stage, Behind the Scenes: Photographs by Akio Kushida and Stephanie Berger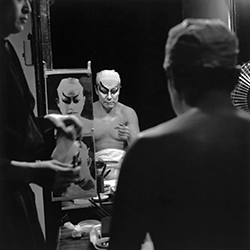 This exhibition presents a selection of photographs on the subject of kabuki theatre, the popular Japanese style of drama which developed around four hundred years ago and still thrives today. Drawing on the recent work of photographers Akio Kushida and Stephanie Berger, the large-format prints explore the history and traditions of the dramatic form, taking for their focus the celebrated actor Nakamura Kanzaburo XVIII and his two sons and heirs. Also conveyed – in the photographs and with accompanying video – is the energetic and colourful, sometimes raucous nature of modern-day kabuki performance.
17 September 2016
Artist Talk: Ronald Cavaye: The Japanese Stage
Venue: Pitt Rivers Museum, South Parks Road, Oxford OX1 3PP
Ronald Cavaye, co-author of A Guide to the Japanese Stage, will speak about the history and traditions of kabuki theatre.