Kabukimono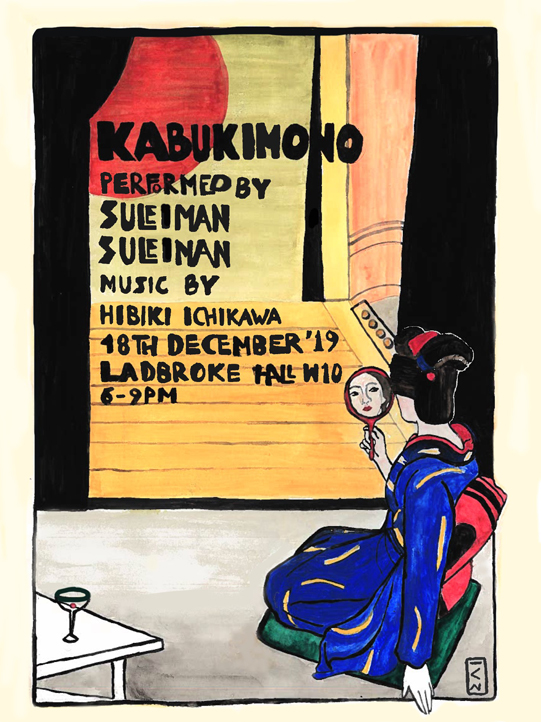 Kabukimono is the inaugural performance in a year-long project being produced by the 23-year-old actor, writer and theatre director Suleiman Suleiman, who has acted with The Royal Ballet, Opera Holland Park, Richmond Theatre and the Gate Theatre among others. Two years in the making, Kabukimono takes audiences behind the curtains of Edo-period Japan to bring to life the story of Izumo no Okuni, and her troupe of female dancers, who first performed kabuki on the dry riverbed of the Kamo in Kyoto, 400 years ago.
Kabukimono will feature a performance of The Pearl Diver, written and narrated by Suleiman and performed in close collaboration with musician Hibiki Ichikawa, who trained under the master shamisen player Akihiro Ichikawa, and is the only professional player of Tsugaru shamisen in the UK.
Audiences to Kabukimono, which was created as a gesamtkunstwerk, will be welcomed with the 'Kabuki Cocktail' created, to a bespoke recipe gifted to Suleiman, by the legendary Japanese cocktail maker, Hidetsugu Ueno, when Suleiman paid a visit to his Bar High Five in Tokyo. Guests are invited to wear kimonos and will sit on cushions to watch the performance in the grandeur of this Edwardian Baroque Grade II listed building that was created originally as the UK's first and Europe's largest car-making plant in 1903.
After the performance the audience will get the opportunity to peruse kabuki prints while listening to an ambient soundscape of Japanese electronica.
Date: 18 December 2019, 6-9pm
Venue: Ladbroke Hall, 79 Barlby Road, London W10 6AZ