Kae Tanimura – violin with Philip Howard – piano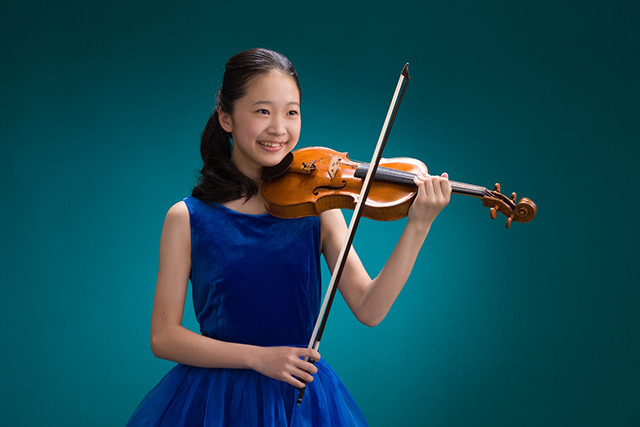 Programme:
Rode: Caprice for Solo Violin No 21 in Bflat major
Bach: Presto from G minor solo sonata
Mendelsohn Concerto: 1st Movement E minor
Dvorak: 4 Romantic Pieces
St. Saens: Rondo
Artist info:
Kae Tanimura was born in Kobe Japan in 1999 She started playing the violin at the age of 5yrs. She has won numerous 1st prizes at junior competitions. In 2010 Kae won 1st prize in the All Japan . National Junior competition She has performed in Sofia. She also attends Summer Music Schools in Europe. Kae comes occasionally toLondon to have lessons from Prof. Tomotada Soh and is hoping to go to the Royal Academy later.
Philip Howard was born in 1976. Initially self-taught, he was a student of Alexander Abercrombie between the ages of 10 and 18, later going on to study composition and piano at the Royal Academy of Music, where his teachers were Michael Finnissy and Graeme Humphrey.
Philip won first prize at the International Gaudeamus Interpreters' Competition 2003 held in Rotterdam, becoming the first British winner since 1968. At the age of 15 he won joint first prize in the first BBC Young Musician of the Year Composer Award.
Among other performances, Philip has given solo recitals in London at the Purcell Room and in the BMIC Cutting Edge series at The Warehouse, as well as in the Ultima festival in Oslo, Gaudeamus Music Week in Amsterdam, and the "Berlin Piano Days" (Berliner Klaviertage).
He has appeared on a number of CDs including his own solo piano album "Decoding Skin", which was released in 2004 and which features works by Iannis Xenakis, Morton Feldman and Michael Finnissy alongside pieces by young British composers Paul Newland, Max Wilson and Paul Whitty.
Date: Wed Jan 29th 2014, 1:30–2:00 pm
Venue: St. Sepulchre, the Musicians Church, Holborn Viaduct, London EC1A 2DG
Tel: 020 72374445
Email: godfreyking316@btinternet.com
Web: www.ajsw.org.uk
Organiser: Anglo-Japanese Society of Wessex